STUBS
(as in "ticket stubs")
started in 2008 when founders Jan & Craig Vassie invited a group of injured servicemen from Headley Court, the tri-service rehabilitation facility near Epsom, Surrey, to be their guests at a London Wasps home game.
At the same time, the then London Wasps agreed to donate unsold tickets to STUBS, for distribution to service veterans. STUBS quickly settled into a routine of hosting injured servicemen for lunch and the match in a hospitality box, whilst service veterans watched the match from the stands and then joined the Headley Court group in the box after the match.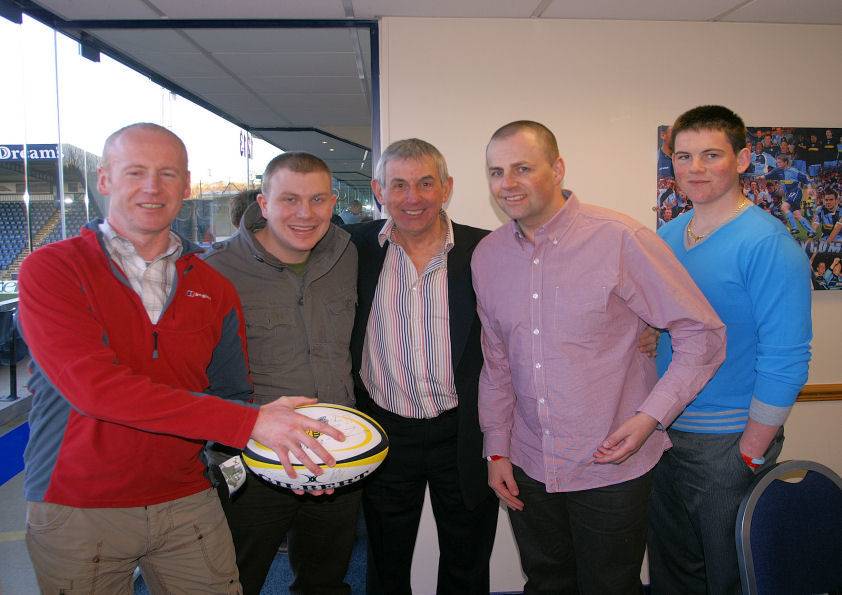 Guests from Headley Court with STUBS Patron Sir Ian McGeechan OBE
STUBS achieved charitable registration in April 2009. During the 2009/10 rugby season, we hosted groups from Headley Court in a small hospitality box at Adams Park, home of London Wasps, where we enjoyed great support from players and fans alike.

We moved our hospitality facilities to Harlequins at the start of the 2010/11 rugby union season. Our new hospitality box is in a similar position on the halfway line, but is three times larger, making it possible to host twenty in-patients from Headley Court, including up to four patients in wheelchairs, at each match. Medical opinion is that this hospitality significantly helps with the patient's rehabilitation.

The new Defence National Rehabilitation Centre at Stanford Hall near Loughborough opened in 2018 and STUBS hosting subsequently transferred to The Ricoh Arena in Coventry where Wasps home games are played. For the 2019/20 season STUBS will return to The Ricoh Arena and will also introduce events at The King Power Stadium to watch Leicester City FC home games.

If you agree with our aims and objectives, you can become a sponsor, a volunteer or simply please make a donation to support our activities. Why not consider joining one of our organised fundraising activities? Thank you for your support!!