Jon's Charity Bike Ride London to Paris
I guess we all like a challenge sometimes, and for me and my good friend Bob an old mate from our RAF days, cycling from London to Paris un assisted seemed like a great thing to do. In fact we first met in 1979 while based at RAF Cosford, both very active sportsmen but that was a long time ago.
Having taken up cycling 18 months ago because it involved going out with mates visiting cake shops, doing anything between 15-50 miles the thought of 280 miles in 4 days did seem a bit extreme when we were planning it but it was for a good cause. Bob for Whizz Kids and me for STUBS a charity that support injured servicemen at the Headley Court rehab centre in Surrey where a very good friend was helped after losing the lower part of his right leg.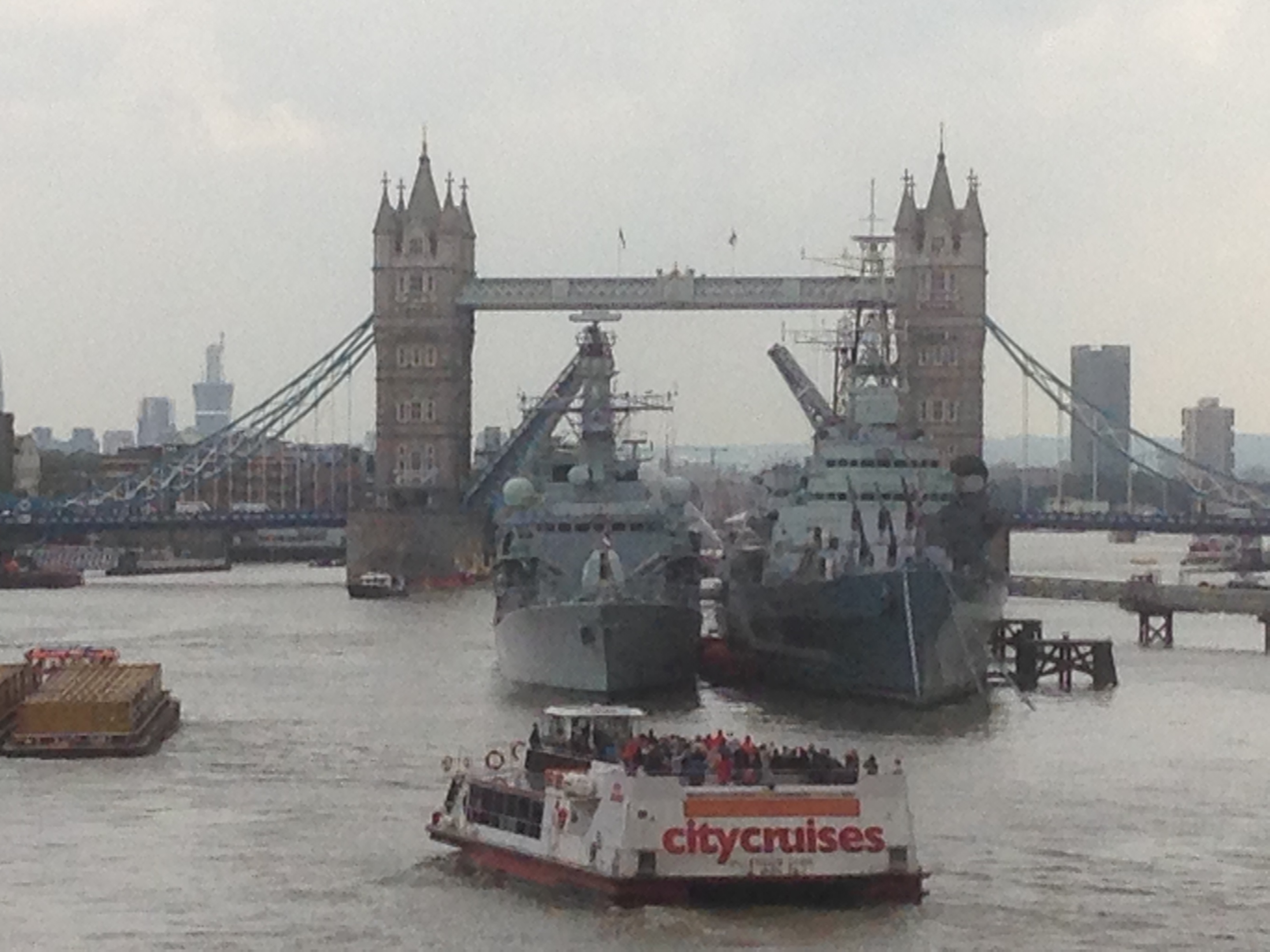 So the date arrived Wednesday 9th Sept the plan would be that we meet at my house in Coltishall cycle the 10 miles to Norwich rail station catch the train to Liverpool street and cycle to Paris, how easy is that.
We crossed the river at 1155 to witness the gun salute from HMS Belfast, the raising of Tower Bridge and the flotilla – apparently not for us! It was to celebrate the Queen longest in reign – but a great start.
Using the Boris cycle superhighways and Sustrans Cycle routes 2, 20 and 22 – starting from the London Eye it would get us to our first overnight stop mainly off the main high ways. Following the river Wandle out through the parks and trails all the way to Crawley then over to Horsham to meet up with old friends for some hospitality.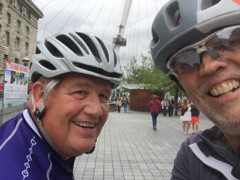 Day two was a hearty breakfast of porridge, toast and coffee and we set off across the south downs to Arundel and once over the hills dropped down to the coast at Littlehampton and followed through Worthing, Shoreham, Brighton, Newhaven and on to Seaford for our second overnighter this time using an AirBnB stop. Just under 140 miles completed in 2 days feeling good it was time to get to the pub and refuel!
Day three was an early start, a 5-mile ride into the ferry terminal at Newhaven to join the 0900 sailing to Dieppe. Checked in, bikes secured and seats found it was time to relax and enjoy the crossing for 4 hours.
Arrival at Dieppe was easy, first off the ship before the cars and lorries and we hooked up with another cyclist who showed the route to join the Avenue Verte, a purpose build cycle track built along a disused railway line for 40 miles taking us towards our overnight stop at Gounay en Bray some 55 miles away.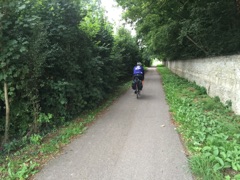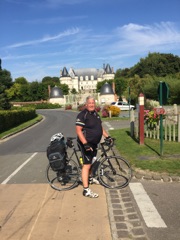 Great weather, great tarmac, no cars and fabulous scenery meant the miles passed by and the fabulous coffee shops doted along the track allowed for regular refuelling points.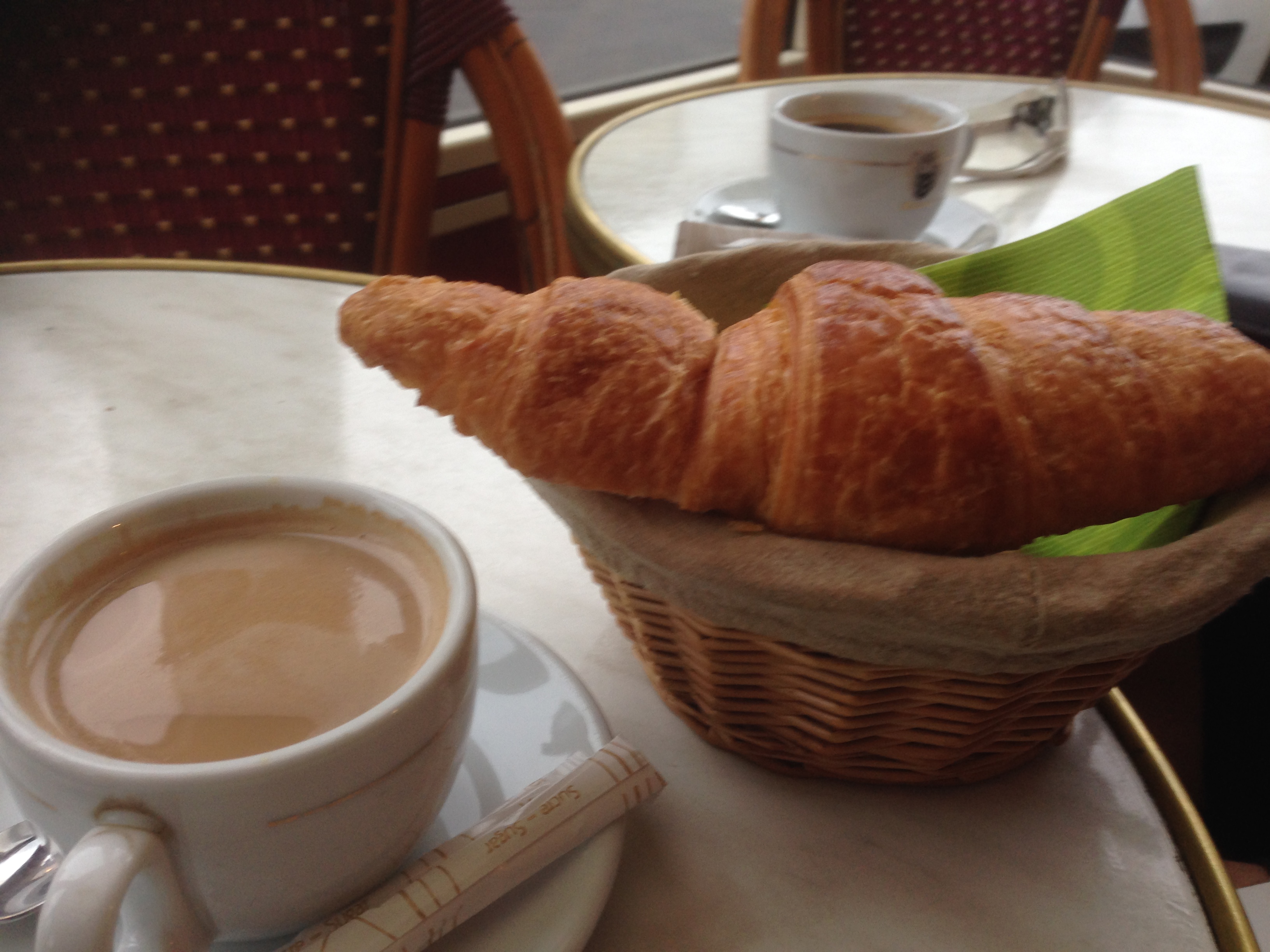 Day three complete and safe arrival at the hotel in Gournay were we met a group of 12 Cyclists riding the other way Paris to London. A few beers and the invasion of the local pizza joint meant a fun night telling stories.
Day four threatened bad weather so an early start was agreed on to try and make headway before it set in, I guess we made about 30 miles in two hours before the heavens opened.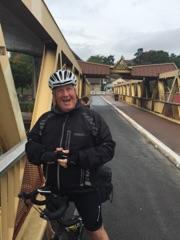 Rain jackets on 50 miles to go!
As we approached the outskirts of Paris leaving the Pathways and cycle paths we joined the Bus and Taxi lanes up though the Parc Boulogne toward our destination of the Arc De Triumph. The rain if anything became biblical and caused us to take a little shelter before our final push.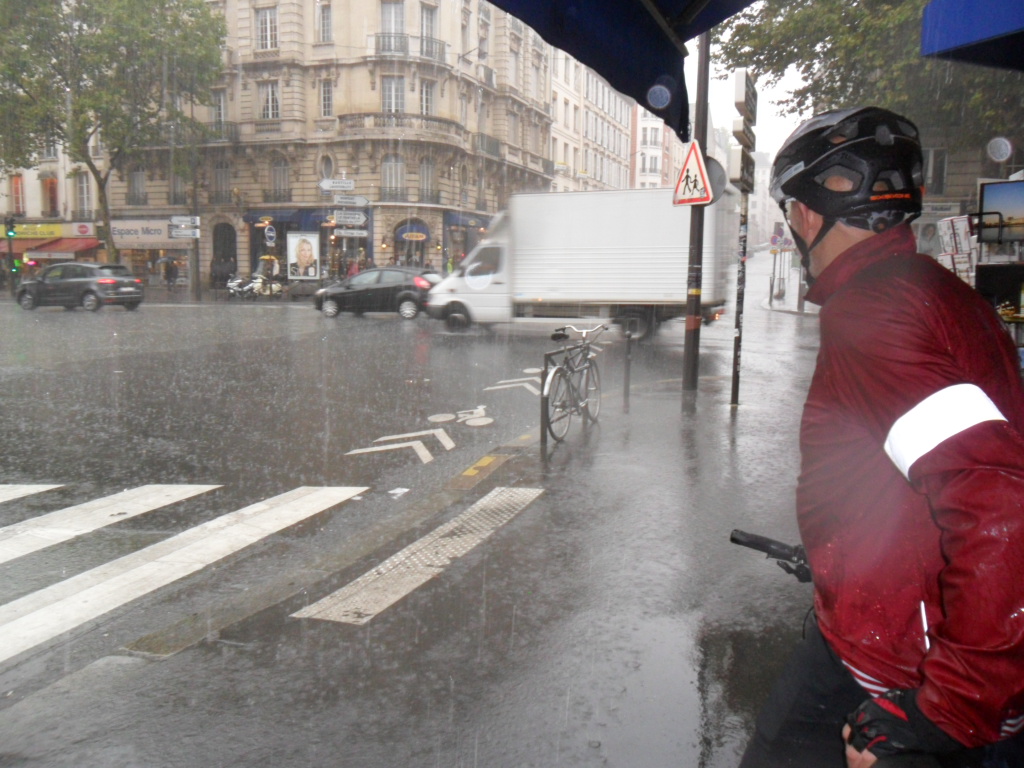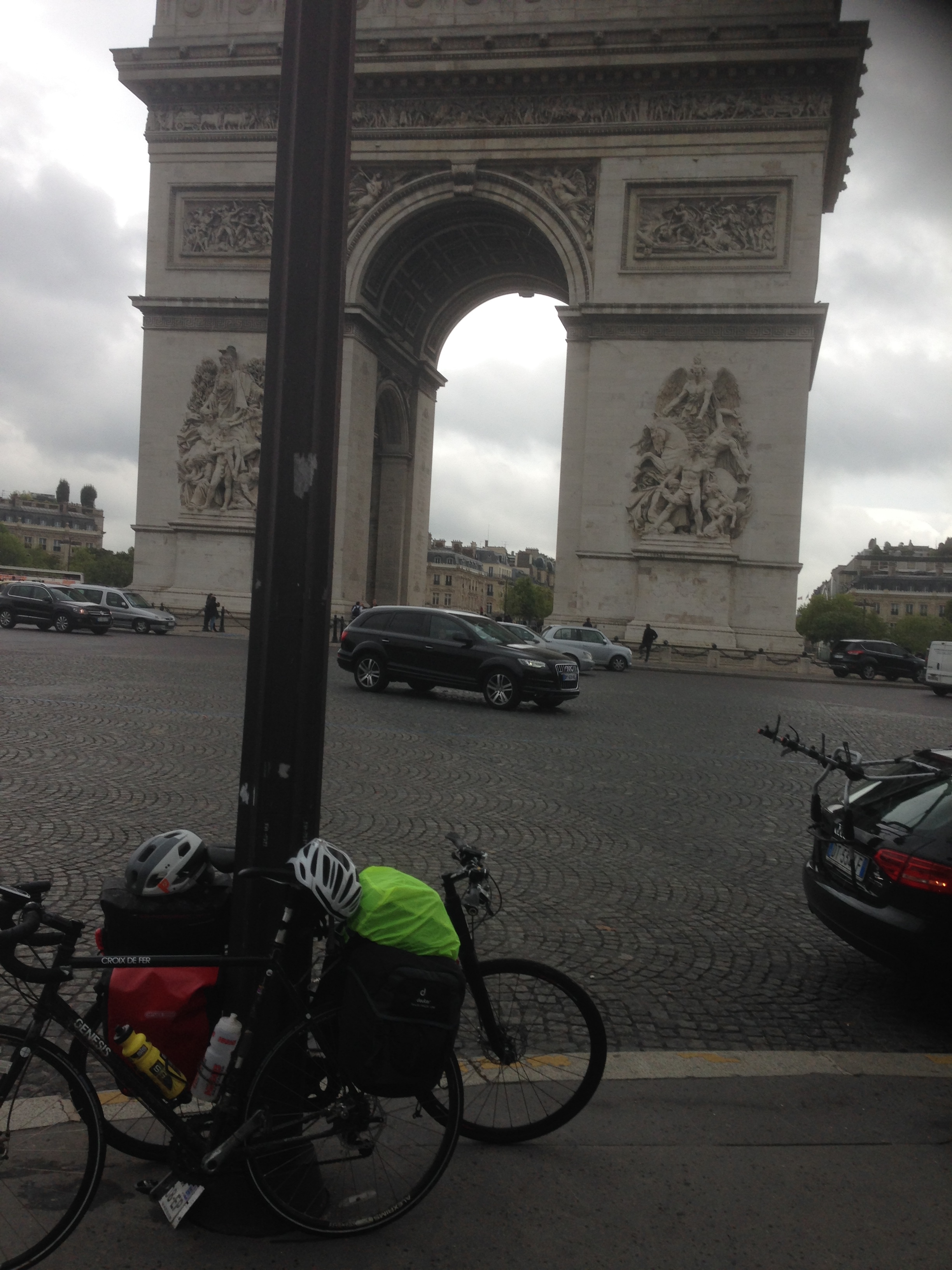 The ride up to the Arc de Triumph along the Champs Elysees was as good as we expected – complete chaos with traffic everywhere and two mad men on bikes fully laden in a rain storm adding to it – brilliant, 80 miles complete soaked to the skin and now to try and find our accommodation situated in the latin quarter. It was another AirBnB booked online some 5 miles away across from Notra Dame Cathedral and in the restaurant district. A quick text to the owner gave us the code to the lobby and secure parking for the bikes and the keys would be under the mat. I love trust!
Apartment found, showers, coffee and creation of a drying room in the bathroom we changed and were in the pub 30 yards from the front door and a few celebration drinks consumed.
When in France the celebration meal had to be frogs' legs, snails and wine.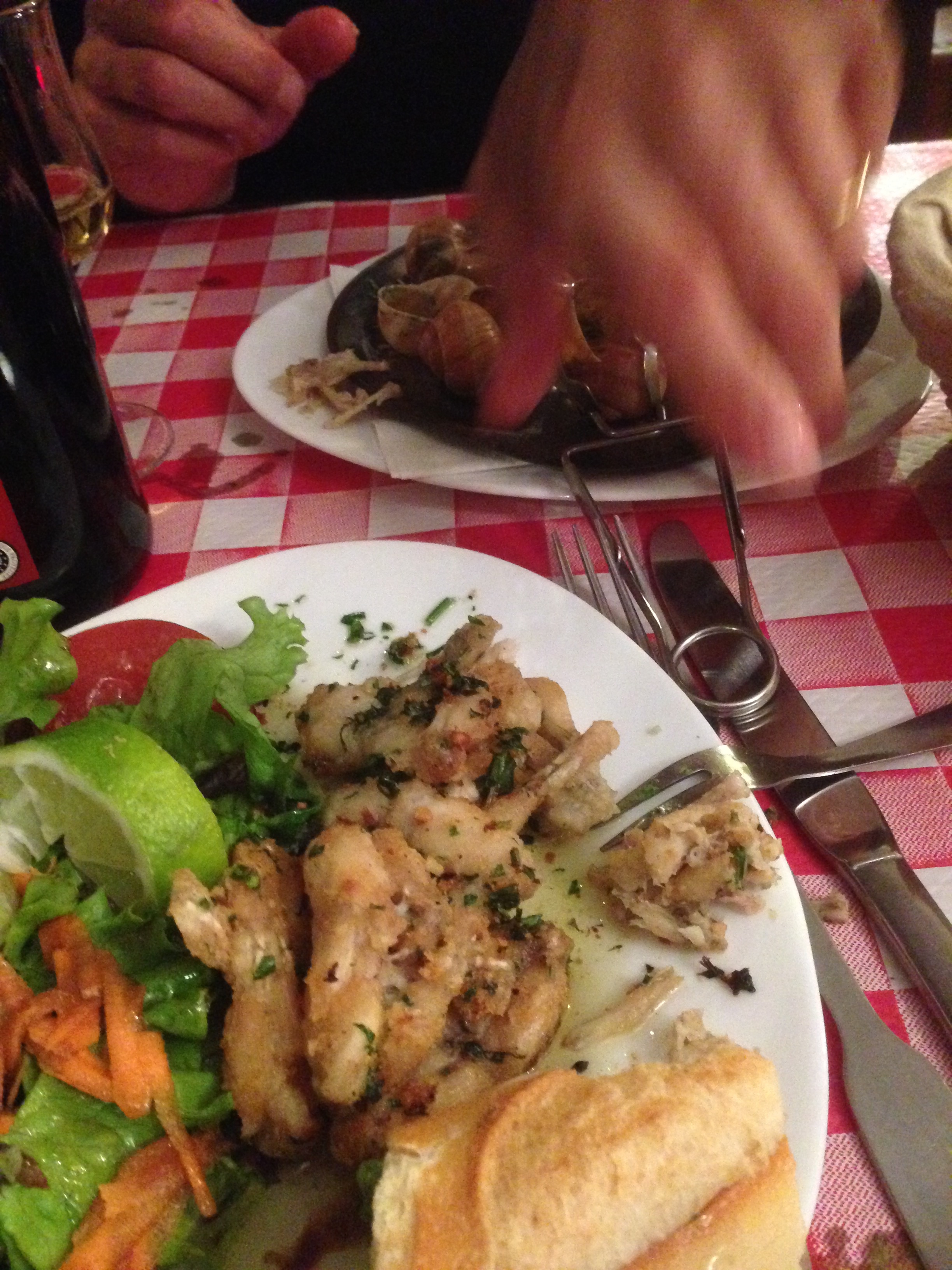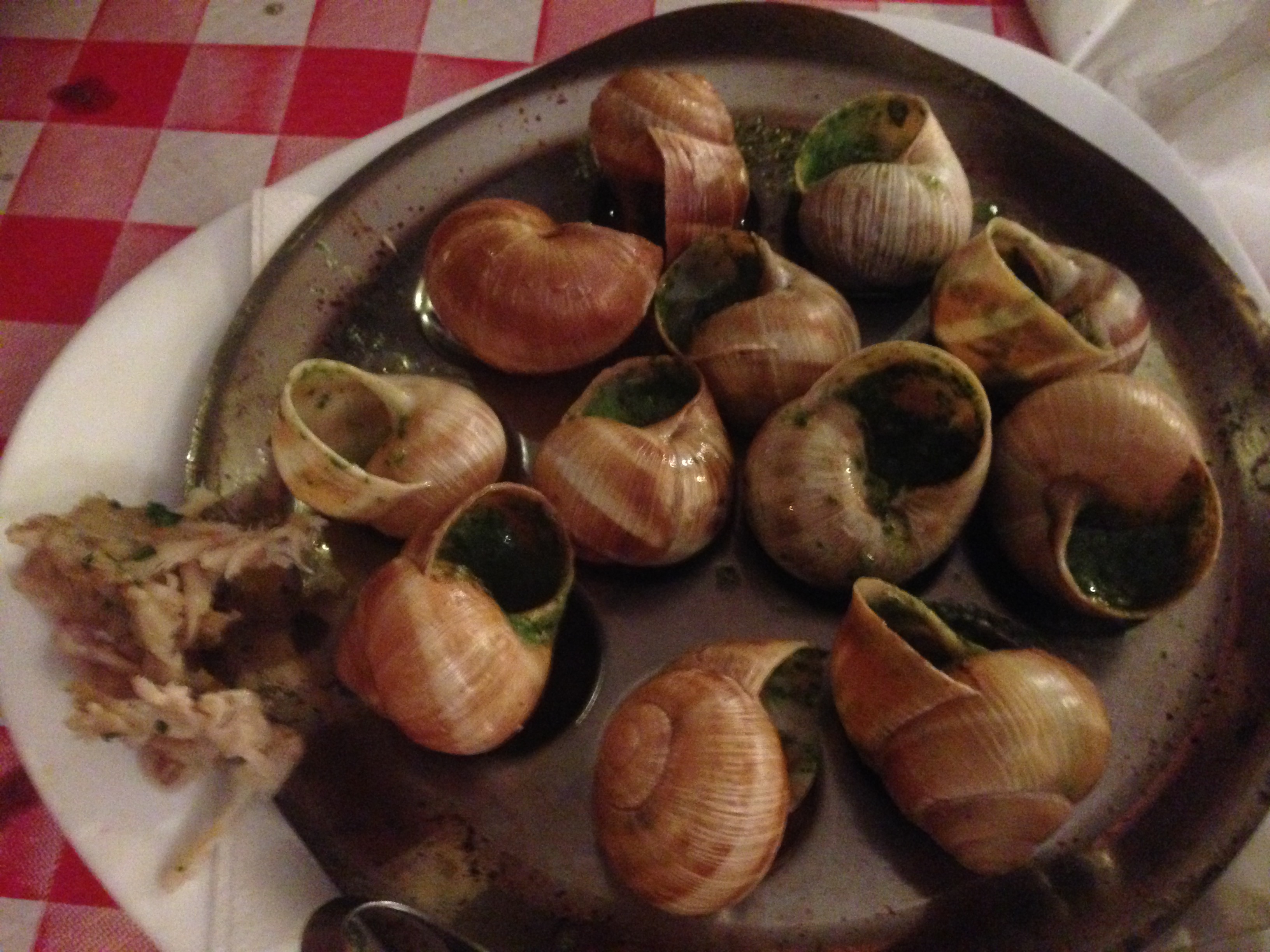 After a good nights sleep, it was up early to get across to the Gare Du Nord to catch the Eurostar home at 0915. This would get us into London in 2.5 hours then a cycle across from St Pancras to Liverpool street, the train to Norwich and home by 4pm (via a pint in the local to celebrate a total of 282 miles) job done.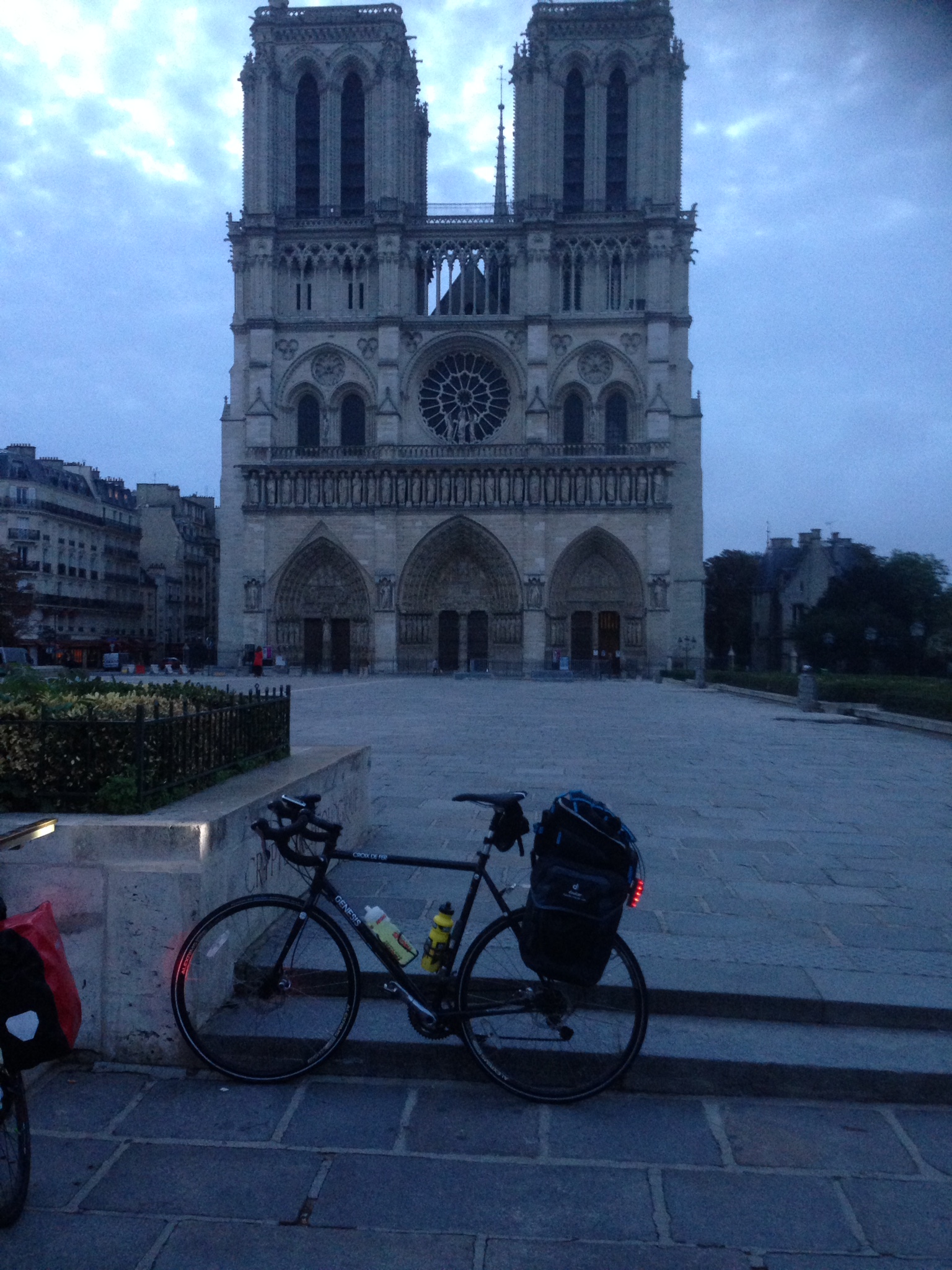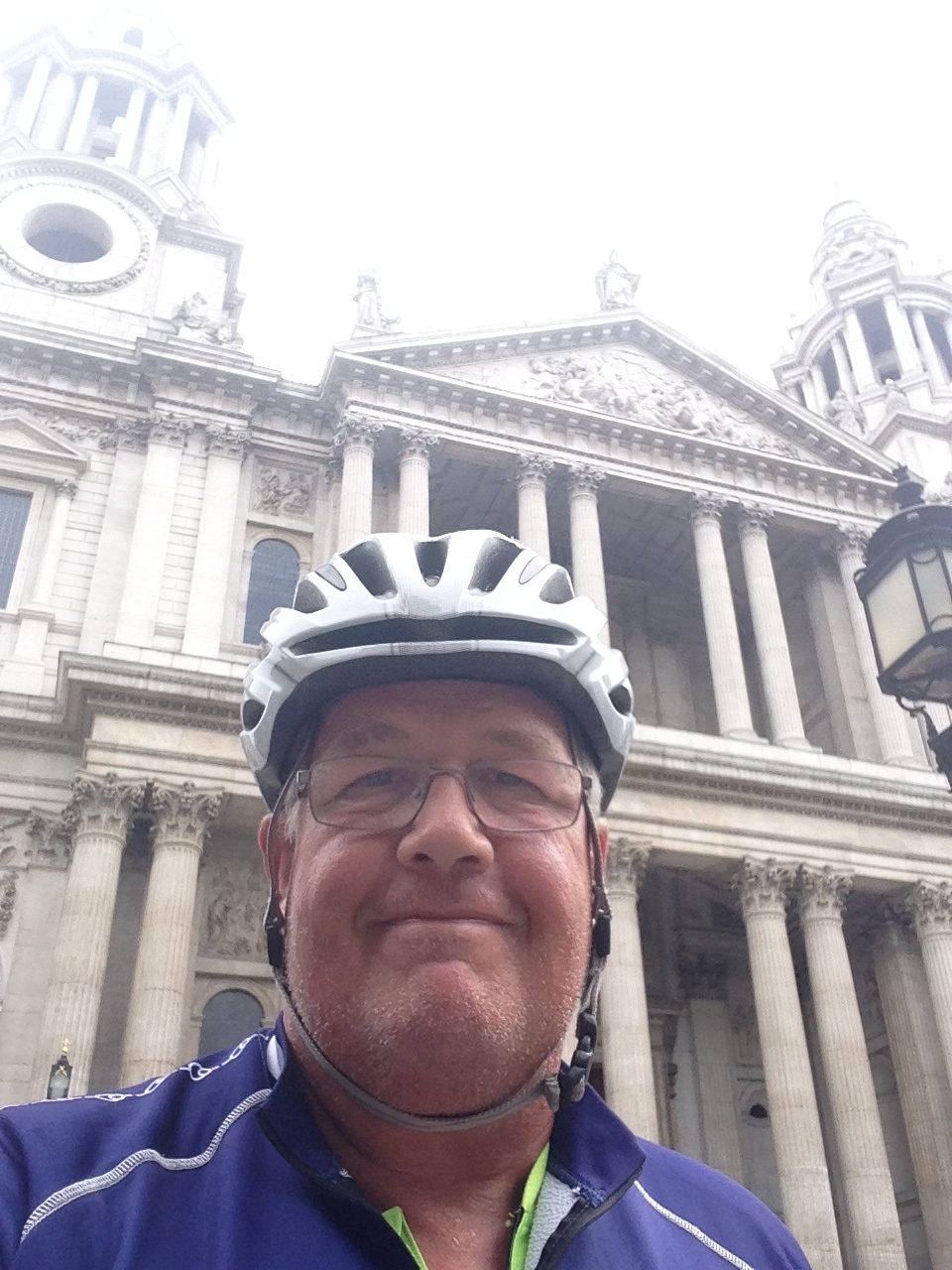 Two Cathedrals visited in two Major Cities in one Morning – Notra Dame and St Pauls.
Of course bike ride aside the best part is actually raising money for the Charities. With £1000 raised for my charity I am happy to be able to support STUBS who in turn support servicemen and women after the trauma of losing a limb.. This journey came about after a friend of mine lost his lower leg and the support; help and encouragement means he has a full and active life and has never lost his sense of humour. Here seen 18 months after the operation water skiing with a false leg. Truly inspirational.